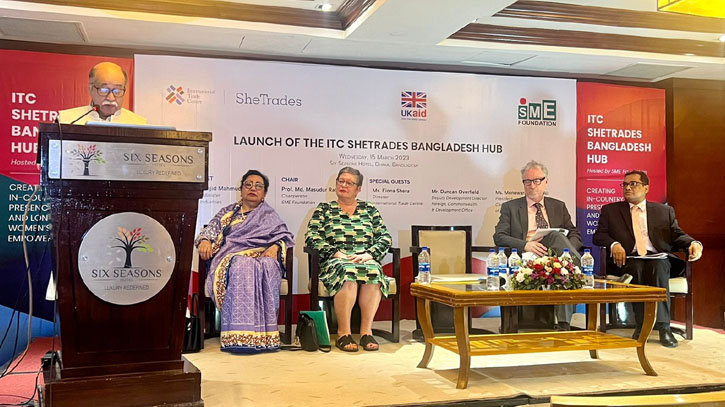 The International Trade Center-ITC will support the implementation of SME Foundation's programs to develop the skills of women entrepreneurs and strengthen women-entrepreneurs organizations in Bangladesh.
On Wednesday (March 15) in a ceremony declaring Bangladesh as a 'hub', the organization announced the implementation of a special program for the development of women-entrepreneurs with the support of SME Foundation.
Industry Minister Nurul Majid Mahmud Humayun was the chief guest at the event. Md. Masudur Rahman, the chairperson of SME Foundation, managing director Dr. Md. Mofizur Rahman, Duncan Overfield, Deputy Development Director, Foreign, Commonwealth and Development Office (UK) and Monowara Hakim Ali, President of Chittagong Women Chamber of Commerce and Industry and Director of SME Foundation were as the special guest.
On behalf of SME Foundation, Managing Director Md. Mofizur Rahman and on behalf of ITC, Fiona Shera, Director, Division of Sustainable and Inclusive Trade, signed the MoU.
It was informed at the event that ITC is currently conducting activities for the development of women in Asia, Africa, the Caribbean and Latin America.
A delegation from Bangladesh recently participated in the 'Creating Digital Assets for your Business' ToT program in Mauritius as part of the inclusion of Bangladesh as a 'hub' for this program.
Through this program, conducted in Bangladesh, Ghana, Kenya, Nigeria, Indonesia and Mauritius, 1,200 women-entrepreneur-led businesses will be given the opportunity to participate in 84 live and virtual fairs.
6,649 new workers will be employed through training in 4,600 women-entrepreneurial enterprises, 73 percent of whom are women, and 91 women-entrepreneurial organizations will be supported in capacity building.
Apart from this, SME Foundation and ITC will help in the formulation of women-friendly business policies at the national level, increasing the communication of women-entrepreneurs with buyers and investors at the national and international levels.
ITC believes that women-entrepreneurs of Bangladesh can play an important role in trade-dependent development to meet the challenge of becoming a developing country from a least developed country after 2026.
Daily Messenger/MI