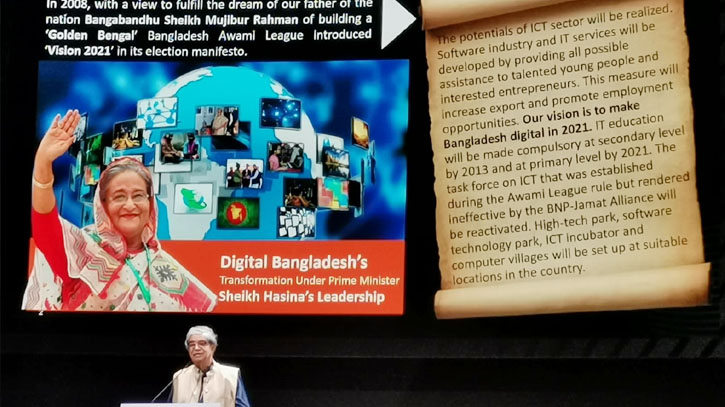 Mustafa Jabbar, Minister of Posts and Telecommunications Division of Bangladesh, delivered a keynote speech on 'Bangladesh National Digital Strategy and Practices' on the first day of Huawei APAC (Asia Pacific) Digital Innovation Congress 2022 held today in Singapore. In his keynote, he stated that Bangladesh's communications industry has grown rapidly since the Digital Bangladesh Strategy was announced in 2008.
He has mentioned, mobile broadband coverage in the country has reached 98.5% at end of 2021, and the mobile phone user base has expanded from 40 million in 2018 to 180 million today." The Internet has drastically changed the lives of the people of Bangladesh. The time-befitting and prudent leadership of our Hon'ble Prime Minister Sheikh Hasina and the support from all stakeholders in this sector have helped Bangladesh to effectively carry on education, healthcare, and economic activities during the Covid-19 pandemic." In his speech, the minister mentioned about the United Nations Broadband Commission's publication, in 2021, where they published about Bangladesh's telecom sector's achievements regarding attaining SDG 5B (1), 9C (1), and 17.8(1)." "This has greatly changed the lives of Bangladeshi people, and it was successfully realized because of the wise guidance of Hon'ble Prime Minister Sheikh Hasina and the full cooperation of all ecological partners.," said Mustafa Jabbar.
The two days APAC Digital Innovation Congress, started from May 19, sheds light on what lies ahead in the digital realm for the economies around the world. It has been an excellent opportunity to fraternize and connect with industry leaders and experts and share ideas about ways to ensure sustainable growth through digital innovations.
Mustafa Jabbar, Minister of Posts and Telecommunications Division, Bangladesh; Dato' Sri Dr Adham bin Baba, Minister of Science, Technology and Innovation, Malaysia; Ken Hu, Rotating Chairman, Huawei; Dr. Yang Mee Eng, Executive Director, ASEAN Foundation; Ms. Ajarin Pattanapanchai, Permanent Secretary, Ministry of Digital Economy and Society, Thailand; Simon Lin, President, Huawei Asia Pacific Region and others have delivered speeches at first day of the congress. Shyam Sunder Sikder, Chairman, BTRC, attended the conference. Minister Mustafa Jabbar also joined Huawei's Intelligent Campus session.
DM/MH