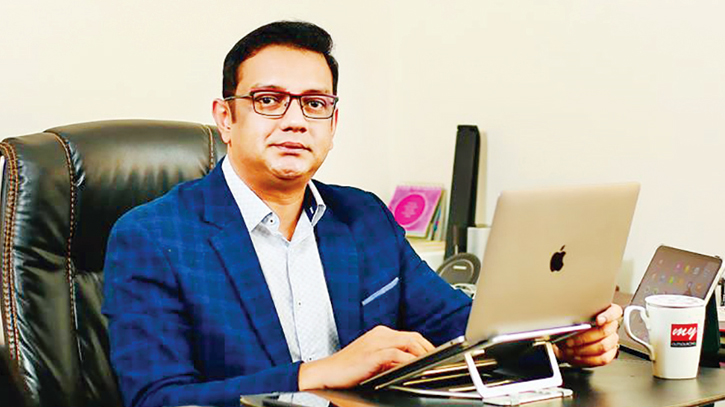 Md Tanzirul Basher, the Managing Director and Chief Executive Officer of MY Outsourcing Limited. Photo: Courtesy
MY Outsourcing Limited (MYOL) stands out as a prominent IT/ITeS service provider, offering Contact Centre Services and Cloud-based Software Solutions to local and international clients in Bangladesh and beyond. With a robust track record of over 12 years in the BPO industry, the company has been a key player in shaping the technological landscape. In an exclusive interview with Mohammad Nazir Hossain of The Daily Messenger, Md Tanzirul Basher, the Managing Director and Chief Executive Officer of MY Outsourcing Limited, shared insights into the company's journey, its current services for the local and global markets, and reflections on the broader BPO industry in the country.
The Daily Messenger: Can you share your journey in the BPO sector and the experiences that have shaped your career?
Md. Tanzirul Basher: Spanning over 23 years, my journey as an IT professional began in the early 2000s. Initially starting in the nascent IT market, the concept of this business was groundbreaking at the time. My inaugural project involved Wireless Application Protocol (WAP), utilised by Grameen Phone during the launch of mobile internet. As part of the First Bangladesh Consulting Ltd, a sister concern of Giant Group, we designed and successfully sold the WAP solution to Grameen Phone. This marked the inception of my career in the IT world.
After a two-year stint in that company, I joined a leading IT firm, now known as Aamra networks limited (formerly Global Online Services Limited). During my eight-year tenure (2002-2010), I led a project named bangladeshinfo.com, the country's first web portal. Continuing to delve into technology, WAP, web portals, and subsequently BPO, I served as the CEO in another IT company called infotech for two and a half years. The diverse roles I held over my 12-year tenure as an employee propelled me to consider starting my venture. Consequently, in October 2012, I founded MY Outsourcing Limited with just three people. Today, the company has grown to employ about 400 individuals.
Messenger: What is the core focus and role of MY Outsourcing Ltd?
Basher: MY Outsourcing Ltd operates under the umbrella of My Group, comprising four companies specialising in BPO, Solution Services, VAS service, and Skill Development Programme. Primarily, we provide BPO and ITeS services for the domestic market while also serving various organisations in countries such as the USA, UK, and Australia. Our services encompass back-office support, customer care, and solution software design. Notably, our involvement in the design of the 999 service, a significant project in Bangladesh, reflects our commitment to technological solutions.
As part of the skill development programme, we conduct the Skills for Employment Investment Programme (SEIP) training programme in collaboration with the Ministry of Finance. With a focus on developing the local workforce, we have trained over 3000 individuals, with 60 percent already contributing to the job market. Additionally, our recent ventures, Daisen Technology Limited and Motor Sheba Limited, underscore our commitment to software and IoT-driven solutions for the global market and the local automotive e-commerce sector, respectively.
Messenger: How do you identify work for your company?
Basher: Utilising tools like social media and LinkedIn primarily helps us connect with different companies to secure projects. We also actively participate in international fairs and exhibitions to showcase our capabilities. Our strategy involves leveraging our experience working with global brands like Coke, Nestle, and Arla in the domestic market. When approaching foreign clients, we emphasise our work for these renowned brands in Bangladesh, establishing trust and identifying potential projects.
However, a significant challenge lies in the perception of Bangladesh in the global market. While we strive to position ourselves as an IT-BPO hub, the world often perceives us as a freelancer hub. Overcoming this challenge requires support from the government and industry associations, guiding us to relevant international fairs and exhibitions.
Messenger: What are the primary challenges your company is currently facing, such as acquiring skilled manpower or dealing with utility services?
Basher: The foremost challenge we face is the lack of skilled manpower. To address this, we emphasise the need for our education system to incorporate subjects relevant to the industry, including AI, robotics, machine learning, and data. Creating a specialised education system ensures that graduates are equipped with the necessary skills to compete globally. Infrastructure challenges, such as stable internet with powerful bandwidth, uninterrupted power supply at an affordable cost, and property costs like office rent, also demand our attention. Preparing in these four areas is essential for catering to the global market.
Messenger: What is the solution to your first challenge, i.e., skilled manpower?
Basher: The solution lies in our education system. Introducing subjects related to our industry, focusing on emerging technologies like AI, robotics, and machine learning, will equip students from an early age. Graduates should possess the necessary skills for global competition. Emphasising specialisation is crucial, as witnessed in the global market where specialised manpower is sought after.
Messenger: What are your suggestions to strengthen the BPO or IT sector in our country?
Basher: I believe that before decentralisation, centralisation is crucial. Creating hubs similar to the DLF Cyber City in Gurgaon, India, is essential. These hubs should offer comprehensive facilities, from dormitories to hospitals and shopping malls, fostering an environment conducive to growth. While appreciating initiatives like the Sheikh Hasina Software Technology Park in Jashore, more such hubs with international standards are needed to attract skilled manpower.
As many IT companies operate in rented spaces in Dhaka, clustering companies into hubs within the capital would enhance accessibility, especially with the Metrorail facilitating easier commutes.
Messenger: Can you discuss the level of government policy support that has helped or hindered your operations?
Basher: Government support is vital for industry growth, and we have received significant backing. The ICT Division's role in conducting various training programs to produce skilled manpower is commendable. Additionally, startups benefit from government funds for operation and promotion, and the ICT Division facilitates the participation of IT companies in foreign fairs and exhibitions. Tax exemptions, VAT exemptions on house rent, and a 10 percent incentive on imports contribute positively to industry growth.
However, acknowledging these government facilities, we must focus on a specialised education system, skill development, and effective country branding to cater to the global market.
Messenger: Thank you for your time.
Basher: Thank you and The Daily Messenger for having me.
Messenger/Nazir/Alamin