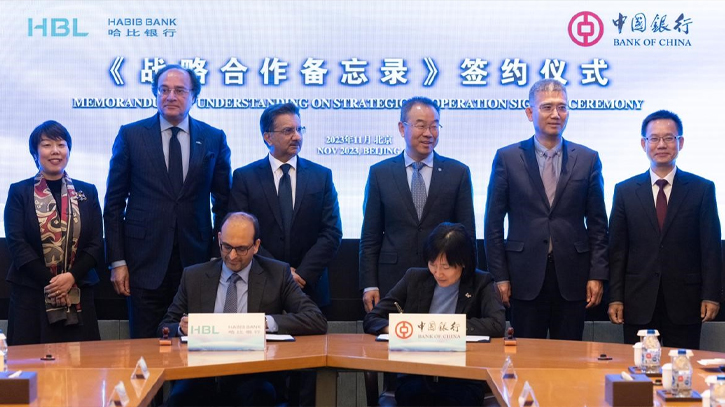 Photo: Courtesy
HBL and the Bank of China (BOC) signed a Memorandum of Understanding (MoU) for Strategic Cooperation at the BOC headquarters in Beijing, China. Vice Chairman & President - Bank of China Liu Jin, HBL Chairman Sultan Ali Allana, and Muhammad Aurangzeb, President & CEO - HBL represented their respective institutions.
The signing of the strategic cooperation memorandum signifies HBL and BOC's commitment to drive economic empowerment and regional connectivity.
The collaboration between HBL and BOC will facilitate Bangladeshi businesses with seamless trade opportunities, enhance their international business network, and help grow their operations locally and overseas.
HBL and BOC will further benefit businesses operating in South Asia, Middle East, Central Asia, and Africa. Both the organisations will work to deepen strategic cooperation in the areas of Environmental, Social & Governance (ESG), technology, and training.
Bank of China is a premier bank in China with presence in over 60 markets around the world while HBL serves over 15 global markets with dedicated China desks and branches in Beijing and Urumqi.
Messenger/Alamin