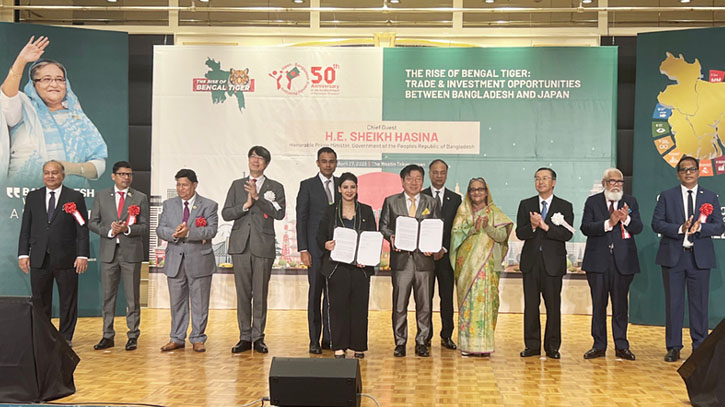 Photo: Courtesy
Summit Corporation Limited on Thursday (27 April) said it has endorsed a memorandum of understanding with JERA Asia Pte Ltd to cooperate in providing liquefied natural gas and other fuels supply and develop on-shore and off-shore regasification and storage infrastructure for Bangladesh.
In the presence of Prime Minister Hasina, It was signed in Tokyo on Thursday, according to a press release of Summit Group.
Salman F Rahman, industry and investment adviser to the prime minister, Abul Kalam Abdul Momen, foreign affairs minister, Zunaid Ahmed Palak, state minister of ICT Division, Prof Shibli Rubayat Ul Islam, chairman of the Bangladesh Securities and Exchange Commission, and Lokman Hossain Miah, executive chairman of the Bangladesh Investment Development Authority, Iwama Kiminori, Japanese ambassador to Bangladesh, Norihiko Ishiguro, chairman of JETRO, Muhammed Aziz Khan, founder chairman of Summit Group, and Faisal Khan, additional managing director of Summit Corporation, attended at the signing ceremony.
The MOU was signed by Toshiro Kudama, CEO of JERA Asia, and Ayesha Aziz Khan, a director of Summit Corporation and managing director and chief executive officer of Summit Power International.
Valued around $2 billion, the objective of the MoU is to collaborate in providing cost-effective and reliable long-term liquefied natural gas and other fuels supply in addition to developing both on-shore and off-shore regasification and storage infrastructure for Bangladesh, said the press release.
In the press release, Toshiro Kudama said, "JERA is keen to assist Bangladesh's objective to secure a reliable energy supply and is pleased to be able to do that by building up the existing relationship with Summit."
"The signing of the MoU is a significant first step towards achieving the objective. JERA looks forward to further contributing to Bangladesh's reliable energy supply in collaboration with Summit."
Muhammed Aziz Khan said, "A country's energy consumption has become the main index to its affluence and development. Like the rest of the world, Bangladesh is also facing energy security concerns as a result of high-interest rates, supply-chain shock, and market volatility."
"At Summit, we are offering solutions through the development of much-needed LNG storage and supply infrastructure with our partner, JERA."
Summit is the largest independent power producer in Bangladesh, representing 17 percent of the country's total private installed capacity and 7 percent of its total installed capacity.
Summit owns and operates a total of 18 power plants in operation or under development, and operates Bangladesh's second floating storage and regasification unit (FSRU) and LNG import terminal with a daily regasification capacity of 500 million cubic feet.
JERA Asia Pte was created through the consolidation of the fuel and thermal power departments of the Tokyo Electric Power Company and the Chubu Electric Power Company.
Since agreeing to acquire 22 percent of Summit Power International's outstanding shares in October 2019, it has been striving to enhance SPI's corporate value through the efficient construction and operation of power generation facilities as well as decarbonization-related opportunities.
TDM/MI