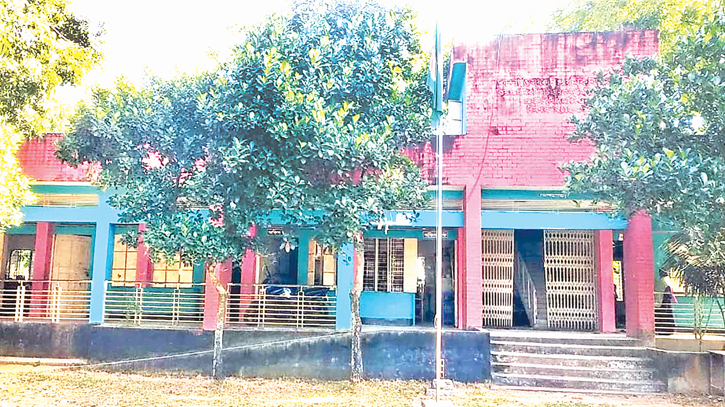 Photo : Messenger
Kandagaon Government Primary School in Doarabazar Upazila of Sunamganj is grappling with various issues, including a shortage of manpower and infrastructural deficiencies.
Most of the school's academic activities take place in a deteriorating tin shed building. While this setup facilitates teaching during dry seasons, it poses significant challenges during the rainy season. The school, designed for nine grades, currently conducts classes in only seven rooms, some of which are unusable, requiring a total of 13 classrooms.
In 2013, the school was upgraded from the fifth grade to the eighth grade. However, the implementation of the new curriculum for primary schools has raised concerns among the local population due to the ongoing crisis, adversely affecting students' learning activities.
According to school sources, Kandagao Primary School was established in the village of Kandagao in the Boglabazar Union of the Upazila in 1950 and was nationalized in 1973. Presently, the school accommodates 533 students from the first to the eighth grade, with eight teachers working at the primary level.
Grades six to eight lack subject-specific teachers, classrooms, resources, or teaching tools for secondary education. The absence of adequate funding compounds the challenges faced by the teachers of Kandagao Government Primary School.
The headteacher of the school, Muhammad Imam Hossen, highlighted that within a 4-kilometer radius, there are no other secondary schools. Consequently, most students drop out after completing the fifth grade. However, the introduction of classes from the sixth to the eighth grade has somewhat reduced the dropout rate of adolescent boys and girls in the surrounding 15 villages. Nevertheless, proper teaching is impeded by the infrastructure and teaching resource crisis.
Additionally, the head teacher, responsible for classes from the sixth to eighth grades, mentioned that although a promise was made for 35% of the basic salary for the head teacher and 25% for assistant teachers, this commitment has not been fulfilled. He added, "The absence of essential tools such as notebooks, laptops, and multimedia projectors hinders teaching. Moreover, there is no boundary wall for the school, and no funds have been allocated for administrative purposes over the past ten years."
Doarabazar Upazila Education Officer Panchanan Kumar Sana stated that the issues at the school are under consideration. He emphasized the need for prompt steps to address the problems discussed during the monthly meetings of the Upazila Education Committee. Upazila Executive Officer Nehar Nigar Tanu mentioned that she is not aware of the situation and assured that proper measures will be taken after conducting an investigation.
Messenger/Fameema