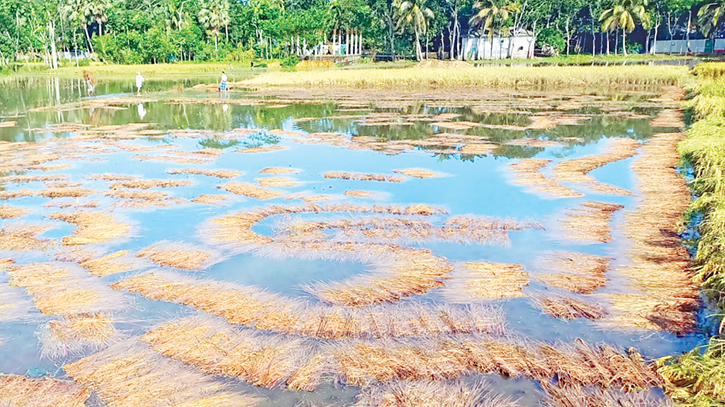 Photo : Messenger
Chandpur district in Bangladesh finds itself in the throes of a devastating agricultural crisis following the aftermath of Cyclone 'Midhili.'
The Directorate of Agricultural Extension's Chandpur district office reported on Saturday that 190 hectares of ripe Aman paddy and 420 hectares of various crops have suffered severe damage, reveals a grim picture for the farming community.
The cyclone's destructive forces, marked by increased wind speed and relentless rainfall, have wreaked havoc on the region, leaving farmers grappling with substantial losses. In areas like Chobhanpur, Bagadi village, Nanupur, Sapdi of Balia union, Sakdi Rampur of Balithuba West Union No. 1 in Faridganj upazila, and Aman paddy fields, the situation has escalated as fields become submerged, exacerbating the damage.
The plight of farmers in Chobhanpur and Bagadi villages is particularly heart-wrenching, as those who recently harvested ripe paddy now face the distressing sight of their produce submerged in knee-deep water. The cyclone's strong winds have blown away ripe and semi-ripe paddy in many fields, compounding the farmers' woes. Additionally, the canals and drains in the affected areas are filled, hindering water drainage efforts and further aggravating the situation.
Habib, a distressed farmer from Chobhanpur, shared his helplessness, revealing that his 3.5 acres of Aman rice plantation, worth approximately 1 lakh, is now underwater, leaving him uncertain about the future. Similarly, farmers Habib Bepari and Obad Sheikh from Bagadi expressed their sorrow over the unexpected damage, with most of their paddy fields submerged just days after cutting the crop for drying.
Chiddikur Rahman, a farmer from Balithuba West Union, reported significant damage to his BR-49, Bina-7, and 17 rice crops, with workers struggling to salvage the previously cut rice amidst waterlogged fields. Abdul Khalek, another affected farmer, shared the heartbreaking news of his BR-22 rice crop falling to the ground due to the intensity of the wind, resulting in substantial losses. He appealed for government assistance to cope with the financial setbacks.
Providing an overview of the extensive damage, Deputy Director of Chandpur District Agricultural Extension Directorate, Safayet Ahmad Siddiqui, revealed that a total of 190 hectares of semi-ripe and ripe Aman paddy, 140 hectares of mustard, 270 hectares of early winter vegetables, and 10 hectares of Bijtala (paddy) have suffered losses in the district.
Siddiqui assured that field officers are actively engaged in assessing the damage, and the financial impact will be determined upon completion of survey activities. The affected farmers are now anxiously awaiting government support to help them recover from this agricultural crisis.
The cyclone's aftermath has not only submerged fields but also drowned the hopes of farmers who now rely on swift and effective assistance to rebuild their lives and livelihoods. As the government mobilizes resources to aid the affected region, the resilience of the farming community in Chandpur will be put to the test as they strive to overcome this unforeseen adversity.
Messenger/Fameema