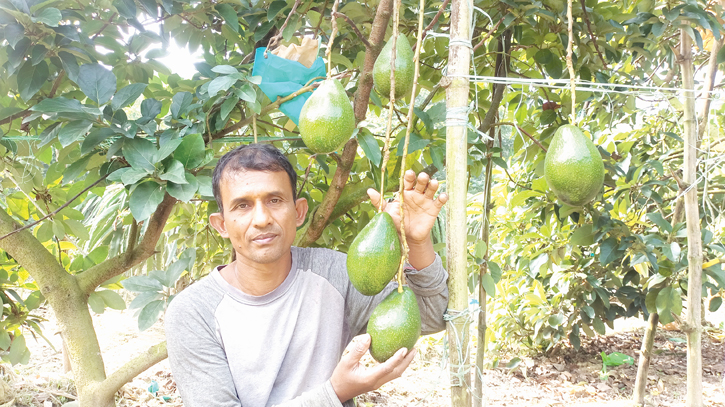 Photo : Messenger
Avocado, a high-value exotic fruit rich in nutrients, is gaining successful cultivation in various districts across Bangladesh, including Jhenaidah.
The demand for avocados in the country has led many farmers to take initiatives in growing this foreign fruit locally. Alongside exotic vegetables, the cultivation of exotic fruits is on the rise, driven by the awareness of the nutritional benefits and market demand.
Traditionally grown in Mexico and America, avocados are both a fruit and a vegetable, popular among health-conscious individuals. Bangladesh, too, has witnessed a considerable demand for avocados.
Harunur Rashid Musa, a school teacher from Kagmari village in Kotchandpur upazila, Jhenaidah, has achieved success in cultivating avocados. Last year, he earned approximately Tk 5.5 lakh from selling avocado fruit on 3 bighas of land. This year, he generated around Tk 20 lakh by selling about 100 fruits, expanding his avocado orchard to approximately 7 bighas.
Harunur Rashid, apart from his teaching profession, is dedicated to growing both domestic and foreign fruits and crops. He initiated research on various exotic fruits and established an autorickshaw named "Krishi Palli" in Kagmari village. Notably, he boasts the largest commercial avocado orchard in Bangladesh.
Harunur said that the primary motivation for cultivating avocados is their exceptional nature, high value, and medicinal properties. Beyond the typical market fruits, there is a growing interest in cultivating unique crops like avocados. The fruit's popularity in Europe and America, along with its presence in big super shops in Bangladesh, adds to its appeal. In 2019, Harunur imported seedlings from abroad and planted them, starting with 100 saplings on 3 bighas of land.
As of now, Harunur has planted around 300 avocado seedlings on about 7 bighas of land. The first 90 trees, initially planted on 3 bighas, have started bearing fruit. In 2022, he sold about 26,000 avocado fruits, generating Tk 5 lakh. This year, he sold approximately 100 fruits for Tk 20 lakh and also sold saplings. Harunur is optimistic about increasing fruit sales in the future.
While acknowledging that avocado might not be as tasty as some other fruits, Harunur emphasizes its high nutritional and healing properties. Avocado is consumed as both a vegetable and a salad in many countries worldwide. Despite its taste, health-conscious individuals in Bangladesh are willing to pay higher prices for avocados in super shops.
According to Harunur, avocado cultivation requires maintenance similar to mango trees or orchards. The fruit is suitable for consumption or sale from September to November. His garden has attracted attention from agricultural entrepreneurs, with many setting up small gardens with seedlings from him. Harunur has two varieties of avocados, weighing up to 500 grams and 500 to 900 grams, sold at Tk 500 to 600 per kg. The garden employs five individuals regularly.
Harunur also cultivates other fruits abroad, including dragon fruit, Japanese persimmon, longan, and pineapple. He advises farmers to carefully consider market conditions before planting foreign fruits and emphasizes his use of pheromone traps instead of chemicals for avocados.
The Kotchandpur Upazila Agriculture Office notes that Harunur Rashid Musa's avocado orchard in Jhenaidah is the first commercial avocado garden in the region. The agriculture office provides assistance upon request.
Messenger/Fameema