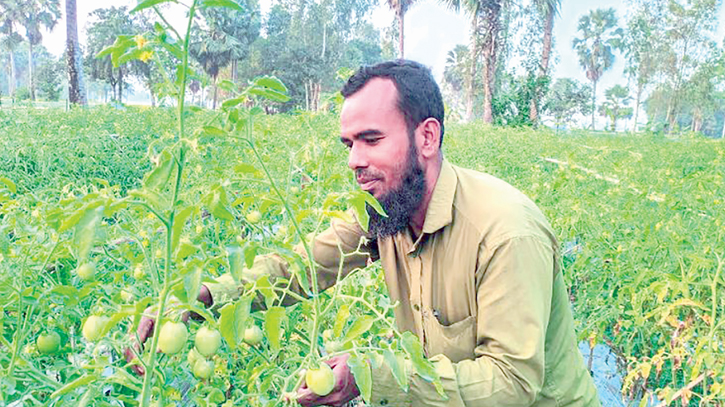 Photo : Messenger
Farmers in Nandigram upazila of Bogura are cultivating early tomatoes in anticipation of fetching higher prices for their produce.
The cultivation of early tomatoes has gained widespread appreciation across the country. Despite the looming threat of natural calamities, which has led to significant losses for farmers in the past, those in Nandigram upazila remain optimistic about the potential for substantial profits.
Villages such as Bhatgram, Chakalma, and Badlashan in the upazila have witnessed a surge in early tomato cultivation. Visually, fields are adorned with tomatoes enveloped in black plastic paper, following a meticulous mulching method. Rows of trees stand uniformly spaced two feet apart, each tree four to five feet high from the ground—a testament to the meticulous work of the farmers.
Abdul Ghafoor from Bhatgram expressed, "I have cultivated early tomatoes on 20th-century land and will soon harvest them. I am hopeful of turning a profit by selling these early varieties." Rezaul, a farmer from Badlashan village, shared his success story, saying, "I planted 1,000 seedlings of a successful variety two months ago on 25th-century land. With an investment of 30 thousand taka, each plant now yields 140-150 pitches of tomatoes, which are currently selling at 150 taka per kg. In a week, the harvest will commence."
With 25th decimal land dedicated to tomato cultivation, Rezaul is optimistic about reaping significant rewards. He projected, "If there is no natural calamity, we can sell early varieties of tomatoes worth about Tk 3 lakh from the 25th decimal land."
Gaziul Haque, the Agriculture Officer of Nandigram Upazila, acknowledged the farmers' dedication to tomato cultivation. He stated, "Farmers in this upazila have been particularly successful in vegetable cultivation. Despite the challenges, our office provides farmers with essential agricultural inputs, including seeds and fertilizers, free of charge. Additionally, we offer guidance and support to ensure the success of tomato cultivation projects."
The farmers of Nandigram upazila are forging ahead, demonstrating resilience and innovation in their pursuit of agricultural success, even in the face of potential natural calamities.
Messenger/Fameema