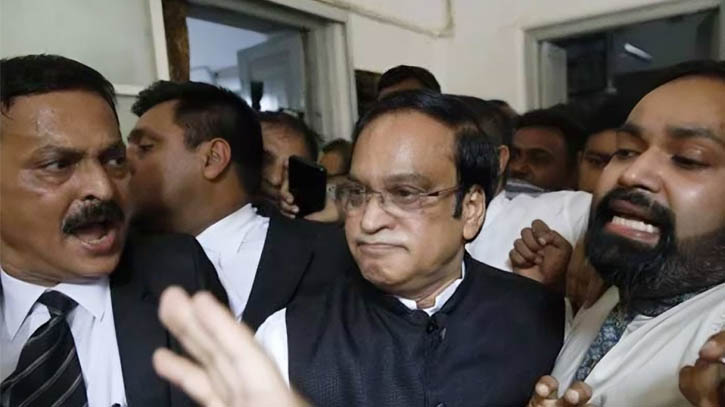 A Dhaka court has sent Awami League lawmaker Haji Md Salim to jail in a graft case, rejecting his bail petition. Dhaka Seventh Special Judge Court Judge Shahidul Islam passed the order on Sunday after the lawmaker surrendered before the court.
The court, however, accepted two other petitions of the lawmaker– one for providing him proper treatment and the other to provide him first-class division facilities in jail. Syed Ahmed Raza, a counsel for Haji Salim, said he surrendered before the court at around 3:20pm and sought bail in the case.
Haji Salim, who was sentenced to 10 years imprisonment in a graft case filed by the Anti-Corruption Commission (ACC), went to Bangkok for treatment on May 2 and returned home on May 5. The incident sparked a huge controversy. On February 10, the full text of the High Court's verdict was published upholding his 10-year imprisonment for amassing wealth worth Tk14.65 crore beyond known sources of his income.
The High Court asked him to surrender before the trial court within 30 days of receiving the verdict. It directed the trial court to cancel the bail order of the MP and issue an arrest warrant against him if he does not surrender within the given time.
ACC lawyer Khurshid Alam said: "After this verdict, Haji Salim has lost the eligibility to remain an MP according to Article 66 (2) of the constitution."
On March 9 last year, the High Court bench of Justice Md Moinul Islam Chowdhury and Justice AKM Zahirul Huq upheld the lower court order sentencing the MP to 10 years in jail after hearing a petition by the ACC. At the same time, the Dhaka 7 lawmaker was acquitted of a three-year jail term in the same case filed by the ACC for concealing wealth information.
The High Court also reduced the fine imposed on Salim by half to Tk10 lakh. He would have to spend one more year in jail if he fails to pay the fine. In 2007, the ACC filed the case against Salim.
On April 27, 2008, Dhaka Special Judge's Court-7 sentenced Haji Salim to a total of 13 years imprisonment over two separate charges brought in the case and fined him Tk20 lakh. The court also sentenced his wife Gulshan Ara to three years imprisonment for abetting her husband's crime and keeping the ill-gotten wealth in her possession.

DM/RW