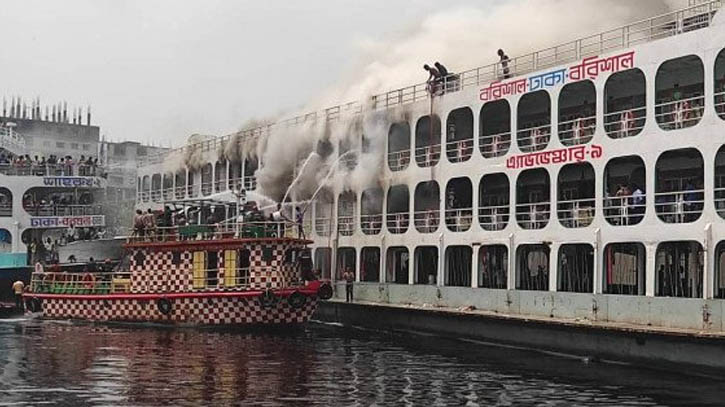 "Adventure-9" has caught fire near Sadarghat launch terminal today.
A four-member committee was on Sunday formed to find out the cause of a fire that earlier in the day broke out on a launch named 'Adventure-9' at Sadarghar launch terminal.
The committee, headed by Deputy Director (Development) of Fire Service and Civil Defense headquarters Nur Hasan Ahmed, was asked to submit its report within 10 days, said Rozina Akhtar, duty Officer of Fire Service and Civil Defence headquarters control room.
Adjutant of Fire Service and Civil Defence training complex Iqbal Bahar Bulbul will act as member secretary of the committee, while two other members are-Senior Station Officer of Sadarghat Fire Station Abu Sayam Masum and Warehouse Inspector Dulal Acharya.
The committee will also determine the extent of damage caused by the fire that was extinguished by fire fighters in about three hours.
No casualties were reported.
The fire started at 10:52 am and spread through the vessel hours after it docked at the terminal ending its overnight travel from Barishal. The passengers, however, got down before the incident, said Md Shahjahan Shikdar, Deputy assistant director (media cell) of Fire Service and Civil Defence.
On information, seven firefighting units rushed to the spot and extinguished the fire around 2 pm. However, what caused the fire could not be known immediately.
On December 24, last year, a fire broke out on the Barguna-bound launch carrying some 800 passengers from Dhaka and it engulfed the entire vessel within 10 minutes. As many as 50 people were killed in the fire incident.
END/TDM/MAN