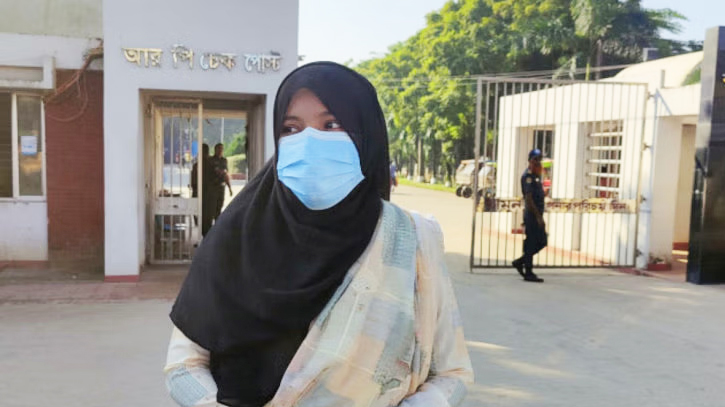 Photo: Collected
Jagannath University (JnU) student Khadijatul Kubra has been freed from jail on bail in two cases under the Digital Security Act (DSA). She was released after 450 days of his arrest.
Khadija walked out of jail at around 9 am on Monday (20 November), said acting prison warden Md. Shahjahan Ahmed. Later, she left for Jagannath University to sit for her semester final exam.
After the semester final exam, Khadija said, I got out of jail today. I still feel like I'm in prison. I came here and somehow participated in the exam. I will also give the next exams. I don't want to say anything else. I am very upset mentally.
Khadija's sister, Sirajum Munira, said, We went to jail early in the morning. Khadija walked out of the prison at 9 am. She sat for her semester final exam.
Chairman of the Political Science Department Mejbah-ul-Azam Saudagar said, Khadija participated in the exam today. With readmission, he can continue again. He would not have lost his semester if he had gotten bail earlier.
The Appellate Division of the Supreme Court (SC) on Thursday upheld a High Court (HC) order that granted her bail in two cases under the DSA in 2020. A six-member bench of the Appellate Division headed by Chief Justice Obaidul Hassan passed the order after hearing a petition filed against the stay order of the Chamber Court.
In October 2020, the police filed two cases against Khadija and retired Major Delowar Hossain with Kalabagan and New Market police stations for "spreading anti-government propaganda and harming Bangladesh's reputation."
The allegations in the two cases filed a week apart were similar. The police arrested Khadija on September 17, 2022. She had been in jail since then.
Messenger/Asadul/Alamin