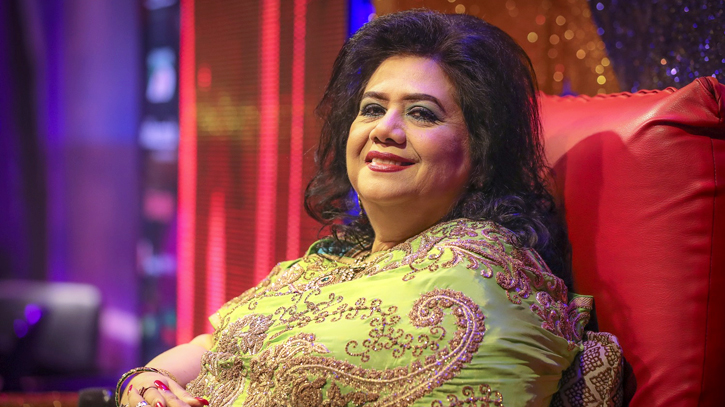 Photo : Courtesy
Today marks the birthday of Runa Laila, a living legend of the world music. The iconic singer and composer turns 71, having crossed the significant milestone of 70.
Though her birthday last year was celebrated in a grand manner at home, this year she has already left the country for abroad. Accompanied by her husband, veteran actor-producer-director Alamgir, Runa Laila is currently touring in Kolkata.
As she won't be in the country on her birthday, the legend's birthday was celebrated in an advance on November 10 at the Bengal Blue-Berry Restaurant in Gulshan of the capital. The gathering included eminent singers, actors, anchors, and many others from the current generation.
In honour of Runa Laila's birthday, Channel i will telecast a special episode titled 'Aj Runa Lailar Jonmodin' of celebrity talk show 'Taroka Kathon' today at 4:20 pm. Produced by Ananya Ruma, the episode is designed to pays tribute to Runa Laila on her special day.
Sharing her thoughts on her birthday, Runa Laila expressed, "I came to Kolkata to spend time in my own way—not for a party. It's heartening to have a birthday; everyone remembers me on this special day. Especially on social media, particularly Facebook, where many people wrote different things about me. I read those words attentively, and I get to know people's perspective about myself."
"Many people still request new songs, and that's delightful. As an artiste, I aspire to become a part of new songs. It's not always possible like before. I always have longing for wonderful lyric and at the same time, the tune for the song has to be liked by me. If the two align, I will certainly sing. Last year, I sang a new patriotic song," she said.
"When my birthday approaches, I remember my father, mother, and my sister Dina Laila. I request everyone to pray for me and my family. May Allah keep us well and healthy," the internationally-famed singer added further.
The latest original song in Runa Laila's voice titled 'Jodi Proshno Koro Kotota Bhalobasi Tomake' was written by late veteran lyricist Gazi Mazharul Anwar and composed by Shafiq Tuhin. The music for the song was composed by Fuad Naser Babu.
Runa Laila revealed that she has already composed several new songs. Next year, she plans to release these songs, composed by her, featuring the voices of artistes from this generation.
Runa Laila first composed a song for Alamgir's movie 'Ekte Cinemar Galpo,' where Ankhi Alamgir lent her voice to the song. For their outstanding work in composing and singing, Runa Laila and Ankhi Alamgir received the National Film Award for this song titled 'Galpo Kothar Oi Kalpoloke Jani,' written by Gazi Mazharul Anwar.
Messenger/Sun Yath