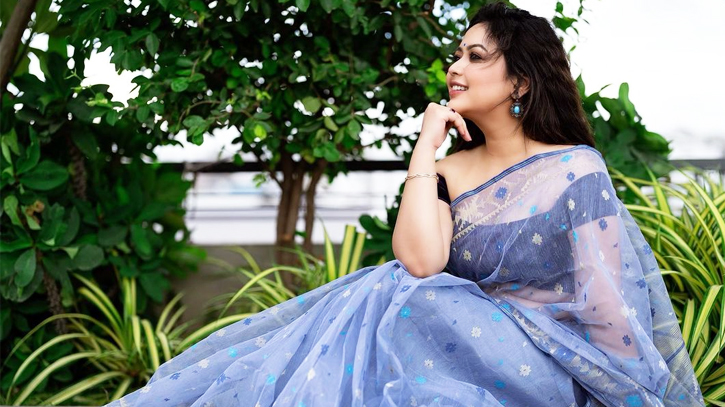 Photo : Collected
Popular small-screen actress Ashna Habib Bhabna, who has transitioned to the big screen, is currently immersed in her movie projects and has expressed her commitment to focusing solely on films. With several films in her pipeline, including 'Dampara,' 'Japito Jibon,' and 'Payel'. Bhabna is determined to concentrate on cinematic endeavors. However, she mentioned that if she finds a captivating story, she is open to working in web films or series.
The movie 'Dampara,' directed by Shuddhoman Chaiatnya and starring Bhabna opposite popular actor Ferdous Ahmed, has received censor clearance. Additionally, the filming for the movie titled 'Japito Jibon,' Habibul Islam Habib, has been completed, with ongoing work on the film's music. Ashna Habib Bhabna highlighted her pivotal role in this project directed by her father. She is also currently engaged in the lead role in the movie titled 'Payel,' directed by Raihan Khan, for the past seven months.
Talking about the three movies, Bhabna said, "'Dampara' is essentially a movie about the language movement, the liberation war, and the story of our existence. To tell the truth, the police have also made a special contribution to the liberation war, so it has been attempted to be portrayed in this movie. However, my father's movie 'Japito Jibon' can be considered my movie. I am also working hard with my father because I share the same dream as he does about this movie."
"In my mind, true peace will not be achieved until the movie reaches the audience. On the other hand, 'Payel' is exactly what a formula movie means, what a commercial movie means. I played the title role in it. This movie has been in the works for the past few months. Raihan Khan works very carefully, so the work is being done very neatly. I have a different expectation about 'Payel.' The audience will see me in a completely new role in this movie. Basically, 2024 year will be one of the best years of my acting career. I have many dreams, and many hopes around 2024. Let's see what fate has in store."
Apart from her acting career, Bhabna mentioned that her new novel will be published by 'Mizan Publishers' at the next book fair, and she is currently busy with the novel.
Messenger/Sun Yath