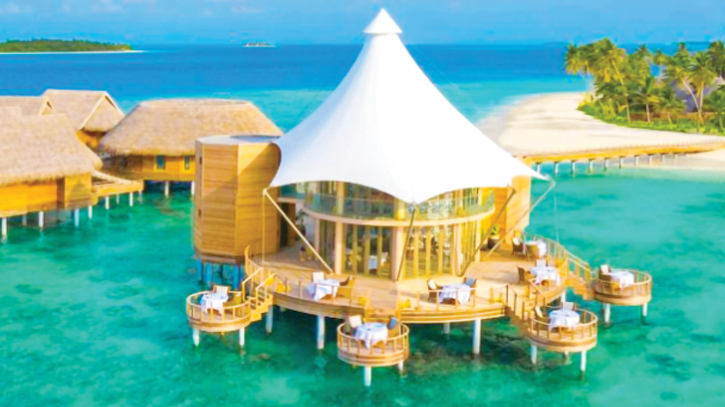 Is it possible for two people to travel abroad within a budget of one lakh taka? Yes, it is possible if you prepare in advance. Know the news about five such countries.
India: From deserts to ice, India has it all. It is natural that the name of India comes first on the list as a neighbouring country. The visa fee is not too high—800 rupees. You can go directly to Kolkata by bus or train. In this case, the cost per person will be 2 to 4 thousand taka. There is no shortage of places to visit in India. In Kolkata, you will find Victoria Memorial, Jorasanko, and Howrah Bridge. On the other hand, you will find the pink city in Rajasthan's Jaipur, the Taj Mahal in Agra, and the ice mountains in Shimla-Manali. Even with this budget, it is possible to travel to Kashmir, a little heaven on earth. So at the end of the year, you can visit India for a long vacation at a low cost.
Thailand: Thailand has all the islands in sight. Thailand has a good reputation as a tourist-friendly country. If you want, both of you can visit Thailand within the budget of one lakh taka. A visa through an agent will cost 8 to 10 thousand taka for both. The flight will cost between $50,000 and $60,000. But if you want to get tickets at a low price, you have to try in advance. Choose days other than holidays. Then the price will be lower.
Let's say the cost of a ticket and visa is 70 thousand taka. You can at least explore Bangkok with the remaining 30,000 taka. Pattaya, Phuket, and Krabi may also be possible; in that case, it may be a bit of a drag.
The advantage of Thailand is that you will find here luxury hotels as well as very cheap hostels. You will get food from expensive restaurants, and you will be able to pass 2-3 days even if you eat food from roadside shops. So you can plan to visit Thailand with your spouse or a friend.
Nepal: If you want to go to Nepal, just fill out the form.
We live so close to the Himalayas that travellers can feel grateful. Seeing the Himalayas with your own eyes does not require much trouble or expense. There is only one thing to do: buy flight tickets to Nepal.
Bangladeshi citizens can get a visa by stepping foot in Nepal, so there is no need to take extra risk. Just fill out a form in advance. The cost of a flight to Nepal is roughly 25 to 30 thousand taka. Let's say 50 thousand to 60 thousand taka for two. Even after your arrival, you can arrange cheap accommodation if you want. You can visit Pokhara or Nagarkot.
However, Nepal is not only characterised by mountains. Nepal is a favourite destination for adventure lovers all over the world. Rafting, bungee jumping, or climbing some of the best mountains in the world—you can find it all in Nepal. However, it is not possible to do these adventures together within a budget of one lakh taka.
Malaysia: Malaysia is very popular with tourists. Malaysia is another paradise for tourism. Colourful city life, blue beaches, deep forests—what's not there?
By spending 60 thousand to 70 thousand taka, you two will get a visa and an air ticket. If you want to stay in the capital, Kuala Lumpur, you will also find cheap hotels. Food costs are not too high in Malaysia, a country famous for its street food. So if you want, within the budget of one lakh taka, two people can travel together in Malaysia.
Maldives: The Maldives is basically an island nation made up of about 1,200 islands. Surprised to see the name of the Maldives in the list of budget travel destinations? Not surprisingly, luxury honeymoon destination Maldives also offers affordable tours. However, keeping the budget to one lakh taka is very difficult in the case of the Maldives. Almost 80 percent of your money is likely to be spent on tickets.
But the advantage is that some direct flights are now available from Bangladesh to Male, the capital of the Maldives. If you can grab an offer, you might be able to get a ticket for a little less. No more worries when you get the ticket. Because, like in Nepal, there is no visa fee in the Maldives. Just fill out the form in advance.
Now let's come to living and eating. The Maldives is basically an island nation made up of about 1,200 islands. The resort islands are very elite. It is not possible to step in that direction with a low budget. You may find accommodation in small hotels on local islands. The prices of food in the restaurants inside the tourist areas are quite low. You will get local food for only one or two dollars per meal.
The best stories of life are created on the way to an unknown country. So start planning your trip now.
Messenger/Disha