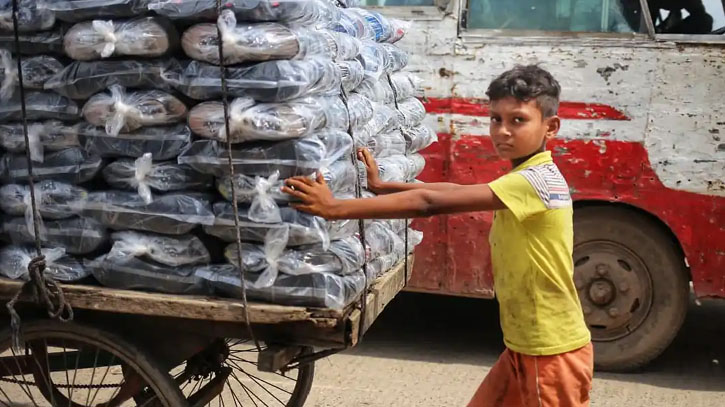 Despite the raft of international and national measures to help combat child labour, it remains prevalent in Bangladesh. On the World Day Against Child Labour, it is an important moment to remind the government, corporate and civil society of how far we have come, how far we have to go and the action we need to take to eliminate it.
According to National Child labour Survey in Bangladesh (2013), an estimated 3.45 million children engage in some form of work including 1.28 million children engaged in the Worst Forms of Child Labour (WFCL). Based on emerging evidence from the Child Labour: Action-Research-Innovation in South and South-Eastern Asia (CLARISSA) Consortium, there are concerns about child labour in the informal sector, where children have been found undertaking work often without safety measures. This situation has been made worse by the global pandemic that has further pushed production of some goods towards a domestic market and into an unregulated informal sector.
Bangladesh is committed to eliminate the most exploitative and dangerous forms of child labour and signed the ILO Convention 182. In alignment with the Sustainable Development Goals (SDGs), Bangladesh has a target to eliminate all forms of child labour by 2025. However, despite the fact that the Government of Bangladesh and NGOs have been working for many years to deal with child labour– it is still a huge challenge and child labour is rife throughout the informal sector.
If we are to find innovative and sustainable solutions to the worst forms of child labour in Bangladesh, we must first acknowledge its very existence. Bangladesh is about to become a middle-income country and the Government of Bangladesh is very much concerned that if child labour is found within formal sector it will be a huge defamation for Bangladesh. This is why the government has declared the some export oriented and formal sector free of child labour. The Department of Inspection for Factories and Establishments (DIFE), designated for monitoring child labour is very vigilant in this regard. However, child labour is very much prevalent within the informal sector and supply chains – especially within the leather sector, and requires focus and effort to address it.
The priority of the government should be about getting children into better and safer work. This requires a focus on better regulation and enforcement beyond the formal sector and large global brands, but a recognition that the most exploitative and dangerous forms of child labour happen in the informal sector. Importantly, we need to understand why businesses require cheaper labour and what drives children into child labour.
In the shadow of the pandemic, the leather sector is facing huge difficulties and with more children ending up working in the sector than ever. The resultant lockdowns caused the closure of most leather supply chain factories and workplaces for three months in 2020. This left children in the leather sector without work and pushed families into crisis, with reduced income impacting their ability to buy food and pay rent. Even in cases where factory owners did not lay off their entire staff, a large-scale decrease in demand for leather products reduced workloads overall and as such many owners reduced the salaries of those workers still in employment.
This tells us some of the picture, but we need to work with children to understand the complexities and the drivers pushing children into the worst forms of child labour before we can create solutions. The evidence informing decisions and policy must go beyond tired cliches and debunk assumptions. It must highlight the realities of why children are forced to work in dangerous and exploitative environments.
When we listen to children about the realities they face, and ask them to think of solutions, they come up with new ideas that others could never have thought of. Based on emerging evidence on the dynamics of WFCL in the leather supply chain, and in the urban neighbourhoods of Bangladesh, will allow the CLARISSA programme to run targeted, child led, participatory processes and, in turn, to deliver innovations which will increase children's options to avoid the WFCL.
The author is a Child Rights Activist in Bangladesh. She is currently working as advocacy and communication expert of CLARISSA Program at the Dhaka Ahsania Mission.
DM/MH